"301" is the third season premiere and 27th episode of Haven, airing on Syfy on September 21, 2012
Plot Synopsis
Edit
In the aftermath of Audrey's abduction and Nathan's struggle with Duke, alien phenomena plague Haven and a innkeeper's mother goes missing.
Coverage in the Haven HeraldEdit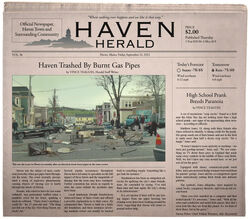 The
Haven Herald
covered the crop circles and magnetic disturbances in separate articles both written by Vince Teagues. In an article titled "Haven Trashed by Burnt Gas Pipes", the Teagues explained away the magnetic disturbances as the result of gas pipe explosion. The article contained a quote from man whose vehicle was hit by a manhole cover as well as a lengthy quote from Dwight Hendrickson on the sorry state of the town's infrastructure. In an article titled "High School Prank Breeds Paranoia" Teagues identified 18-year-old Matthew Jones as the culprit behind the crop circles. Jones took full responsibility for the prank, though he refused to name the three friends who helped him.
Main Cast
Edit
Guest Starring
Edit
Duke: Was that intentionally hostile?
Dwight: Last time I saw you, you were throwing me off a boat.
Duke: If memory serves, you were also being a bad boy too that day.
Dwight: I guess I haven't learned my lesson.
Duke: (mimicking) I guess you haven't learned your lesson.
The "Lights Over Portland" headline found in Wesley's room is a reference to the "Lights Over Hancock" story from the novel.
Near the time 7:44, an #EscapeToHaven hashtag appears on the yellow wall of the Haven Hearld.
This episode picks up where "Sins of the Fathers" left off as both episodes took place on the same day.
301 is the plot number where The Colorado Kid was buried in Potter's Field.
External Links
Edit
Summary from tv.com
Community content is available under
CC-BY-SA
unless otherwise noted.