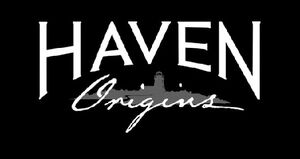 "Haven Origins" is a webseries that takes place when the troubles first started in Haven. It acts as a prequel to the main series Haven. The webseries was announced by Haven official Twitter and Facebook accounts on September 9, 2014. It premiered September 12, 2014.
Episodes
[
]
Episode 4, Part 3 - "Trust Kills Fear" 03:22
Episode 4, Part 2 - "Trust Kills" 02:58
Episode 4, Part 1 - "Trust" 04:42
Episode 3, Part 3 - "Lovers Conquer All " 03:11
Episode 3, Part 2 - "Lovers Conquer" 02:49
Episode 3, Part 1 - "Lovers" 02:57
Episode 2, Part 3 - "Native Breaks Free" 02:41
Episode 2, Part 2 - "Native Breaks" 02:13
Episode 2, Part 1 - "Native" 02:15
Episode 1, Part 3 - "Witches Are Born" 02:01
Episode 1, Part 2 - "Witches Are" 03:13
Episode 1, Part 1 - "Witches" 02:43
Description
[
]
Four episodes, each consisting of three parts, were released. The first episode takes place in 1698, the second in 1812, the third in 1907 and the fourth in 1945.
Trust Kills Fear
[
]
Mariko was imprisoned with her mother in California in 1946. McKee, a soldier rescued her from capture. He was a member of The Guard and the US Army. It is possible that he has Nathan's trouble because he touched her with no pain. He went on to raise her as a McKee.
Native Breaks Free
[
]
In Fort York, Ontario, a British general took a Native American captive who's screams are unbearable. It is set in 1812. The general and a lieutenant thought they could use it in battle. A member of the guard rescued him from capture and took him to Haven. One of his descendants was killed by a Crocker. The trouble later was given to Grayson.
Love Conquers All
[
]
Elsa, whose last name is unknown, was in love with Mirin Glendower. They live in a coastal town somewhere along the Eastern Seaboard in 1907. Elsa and Mirin sent messages via bottles to stay in touch. He had heard of Haven. To keep the two lovers apart, her Uncle Marcas tried to kill Mirin by keeping him on land in a shack. After locking Uncle Marcas in the shack, Elsa found a message in a bottle for her. Mirin and Elsa met up at the docks. Elsa took a boat and Mirin swam by her side to Haven. Mirin is the descendent of Regis Glendower, and an ancestor of Cole Glendower.
Wytches
[
]
In 1698, Rev. Flagg chased down a pregnant woman, Mary, and accused her of witchcraft. Mary hid in the woods as the forest devoured and tossed around Flagg's men. (Implying she is a member of either the Keegan or Novelli families). Flagg was not to be messed with and kept pursuing her. A fisherman helped get Mary to a boat. He got her to a midwife, who welcomed and helped deliver her baby. Mary wrote to her mother just to tell her that she and her baby are safe. It is implied that her mother has a premonition trouble.

Credits
[
]
Directed by David Bolen and Ben Proudfoot.
Written by Jeremy Lambert, Jonathan Mann and Ben Proudfoot.
Produced by Breakwater Studios.
Cast
[
]
Scott Baker - The Guard
Ray Brimicombe - Witchhunter 1
Chase Duffy - Witchhunter 2
Matthew Lumley - The Whipper
Madine Proudfoot - Mid-Wife
Colin Rodgers - The Prisoner
Robert Seale - The General
Peter Simas - The Native
Lesley Smith - The Witch / Mary
Ben Stone - Reverend Flagg
J. Vincent Walsh - Fisherman
Sarah Beth Comfort - Elsa
Austin Humble - Muirin
Brad Potts - Uncle Marcas
Links
[
]