We're Getting Mutants in the MCU - The Loop
Play Sound
Marion Caldwell
Season
1, 4, 5
Ability
Weather Control (Formerly)
Occupation
Shop Owner
First Appearance
Welcome to Haven
Last Appearance
Forever
Relationships
Conrad Brauer (Boyfriend) †
Appeared In
3 Episodes
Status
Alive
Actor
Nicole De Boer
Marion Caldwell is the owner of an antiques store in Haven, Maine, and a descendent of the Hastings family. She possesses an innate ability to control the weather, though she does so unconsciously and during periods of extreme emotional distress.
Season 1
[
]
Her mother died in early 2010, and left her a two-million dollar inheritance. Around that time, she met Ted Ford, who persuaded her to purchase a store in Santa Barbara, California. In June of 2010, she visited Tuwiuwok Bluff to stargaze with Ford; she was followed by Conrad Brauer for her protection, and was pursued on the cliff by Jonas Lester before throwing Lester from the cliff with her abilities. She was later interviewed by FBI Agent Audrey Parker, and lied about Conrad Brauer's alibi in order to protect him, after which she inadvertantly produced a thick fog in the center of town.
She met with Brauer that night to discuss the night of Lester's death, and accidentally set off a violent hailstorm. Ford later presented her with a key to a store in Santa Barbara, and allowed him access to her bank account in order for him to make the down-payment. She then received a phone call from Agent Parker informing her of Ford's involvement with Lester in a plot to steal her inheritance money, which Marion confirmed by checking her accounts online and finding a two-million dollar withdrawal. She then confronted Ford before he could leave Haven, and conjured a massive lightning storm in her rage, though she was pacified by Agent Parker when Ford was arrested by Detective Nathan Wournos.
Caldwell later reunited with Brauer on the beach, and the two appeared ready to pursue a relationship together.
Season 4
[
]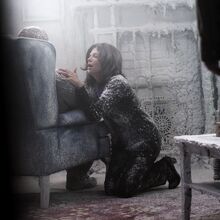 She has another appearance in Fallout season 4 episode 1.  She is creating cyclones, lightning, and powerful winds not realising she is in her frozen house with her lover Conrad Brauer.  He died of a heart attack two days earlier when he was fixing the porch from the Hunter meteor storm which reactivated her trouble.  She felt guilty thinking she could have helped him.   When Nathan finds Marion, she tries to freeze him because he didn't let Audrey go in to the barn and her touble came back. Nathan convinces her to stop just before the huge storm she created with her powers reaches the center of town.
Season 5
[
]
In Forever, Marion made a brief appearance when her Trouble leaves her and she watches the sun shine on Haven again after the void shrinks.
Trouble
[
]
Her Trouble allows her to manipulate the weather in times of extreme emotional distress.
Appearances
[
]
Season 1
[
]
Season 4
[
]
Season 5
[
]