We're Getting Mutants in the MCU - The Loop
Play Sound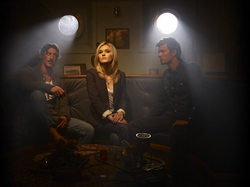 The second season of Haven premiered on July 15, 2011. The season had a run of 12 episodes followed by a Christmas episode that was outside of the show's standard timeline.
Summary
[
]
Following the death of the chief, the Biblical Plagues of Egypt fall upon the town. Meanwhile, Audrey and Nathan deal with a brunette woman claiming to be Audrey Parker who has appeared at the same time that Evidence Ryan, Duke Crocker's wife, returns to Haven. After the Plagues are averted, Nathan discovers that the town's religious fanatic, Reverend Driscoll, is starting a war.
Nathan steps up to fill the position of Interim Chief of Police, while Audrey deals with the possibility that she may, in fact, be Lucy Ripley. Duke continues to look for a way to save himself from the tattooed man destined to kill him. Audrey becomes involved with Troubled marine biologist Chris Brody, son of the late mayor. Nathan begins to team up with Dwight Hendrickson, his father's right hand man. Audrey and Nathan struggle to keep the peace, as Driscoll begins making his move against the Troubled. Duke discovers a secret from his past. Audrey finally gets some more information on herself thanks to Nathan, but everything is about to change and Haven will never be the same.
Episodes
[
]
Image
Title
Writer
Director
Airdate
Episode
A Tale of Two Audreys
Sam Ernst & Jim Dunn
T. W. Peacocke
07/15/11
2.01
Audrey meets a woman who claims to be her and Nathan takes the lead at the department. At the same time the ten plagues of Exodus are visited on the people of Haven, and the death of the firstborn sons is only averted through a children's story.
Fear & Loathing
Gabrielle Stanton
Rob Lieberman
07/22/11
2.02
The residents of Haven have their worst fears come to life while Nathan's "trouble" seems to vanish, and a children's puzzle that could destroy Haven is stolen.
Love Machine
Matt McGuinness,
Nora Zuckerman,
& Lilla Zuckerman
T. W. Peacocke
07/29/11
2.03
Equipment at the docks begins attacking the people of Haven while Audrey #2 investigates the mystery of Audrey's identity.
Sparks and Recreation
Jonathan Abrahams
Lynne Stopkewich
08/05/11
2.04
Electrocutions occur across town and one such event kills Haven's extremely likable mayor. Audrey and Nathan meet a man who is skilled at keeping Haven's secret under wraps. Duke and Evi find a small empty box after Duke reluctantly accepts his ex-wife's help in finding a way to protect himself from the tattooed man.
Roots
Jim Dunn
Tim Southam
08/05/11
2.05
A wedding at an isolated estate becomes a lethal trap for everyone in attendance - including Audrey, Chris, Duke, and Evi while something outside threatens to kill them all. Proceedings turn deadly for the guests when the body of the host is found.
Audrey Parker's Day Off
Nora Zuckerman & Lilla Zuckerman
Fred Gerber
08/19/11
2.06
When Audrey wakes up on her day off, her day starts off good, until someone dies. Then the day gets restarted over and over again, and Audrey is forced to watch everyone she loves die. Audrey sets out to figure out how to stop this day once and for all.
The Tides That Bind
Gabrielle G. Stanton
Paolo Barzman
08/26/11
2.07
While investigating a recent drowning, Audrey and Nathan come across an enigmatic and a dangerous community located on the outskirts of Haven, where children are mysteriously disappearing and a dark secret is being protected.
Friend or Faux
Sam Ernst
Stephen Reynolds
09/02/11
2.08
Violent crimes are traced back to a mild-mannered banker, who seems to have spawned a darker, unhinged copy of himself who is bent on doing things the original won't do for himself. While trying to determine the copy's ultimate mission, Audrey, Nathan, and Duke step into a deadly trap.
Lockdown
Nora Zuckerman & Lilla Zuckerman
Jason Priestley
09/09/11
2.09
A terrifying infection takes down a police officer at the Haven police station, prompting a lockdown that locks in Audrey and Nathan, who suspect that something other than an outbreak is at play.
Who, What, Where, Wendigo?
Jonathan Abrahams
Lee Rose
09/16/11
2.10
A local teen goes missing in Haven's woods while a murderer is on the loose, and the search party finds evidence to support the existence of a supernatural creature in the forest.
Business As Usual
Matt McGuinness & Gabrielle Stanton
Shawn Piller
09/23/11
2.11
Audrey and Nathan investigate murders in which the victims were mummified; a secret from Duke's past may affect his future.
Sins of the Fathers
Sam Ernst & Jim Dunn
Lee Rose
09/30/11
2.12
The dead visit the living to resolve unfinished matters, and the Reverend resurfaces to launch his endgame in the Season 2 finale.
Silent Night
Brian Millikin
Shawn Piller
12/06/11
2.13

Everyone in Haven thinks it's Christmas, even though it's July. No one seems to notice that it's the wrong time of year except for Audrey Parker. She has to work to try and set things right, especially when people start disappearing into thin air.
Check out Haven: The Complete Second Season
Cast
[
]
Main Cast
[
]
Recurring Cast
[
]
Guest Stars
[
]
Clips
[
]
Promotional images
[
]