Jurassic World: Dominion Dominates Fandom Wikis - The Loop
Play Sound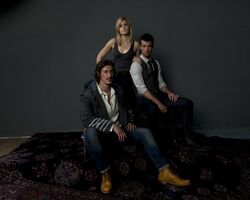 Season 3 of Haven was announced by SyFy on October 12, 2011. The third season included 13 episodes. It premiered on Syfy on Friday September 21, 2012.
Summary
[
]
Season three of Haven picks up immediately following the events of the gripping season two finale with Audrey having been kidnapped; Nathan warned against pursuing a romantic relationship with Audrey; and Duke seemingly engaged in a fight to the death with Nathan after he discovers his family lineage is to kill Haven citizens with troubles.
Episodes (2012-2013)
[
]
Image
Title
Writer
Director
Airdate
Episode
301
Jonathan Abrahams
Lee Rose
09/21/12
3.01
In the aftermath of Audrey's abduction and Nathan's struggle with Duke, alien phenomena plague Haven and an innkeeper's mother goes missing.
Stay
Matt McGuinness
Shawn Piller
09/28/12
3.02
Audrey, still reeling from her traumatic abduction, feels unsettled about her place in the world--a feeling further complicated when a horde of mindless wild men, who appear to have been abducted, drugged and subjected to strange experiments, begin terrorizing the town. Meanwhile, Duke dives into one of Haven's greatest unsolved mysteries.
The Farmer
Jim Dunn & Sam Ernst
TW Peacocke
10/5/12
3.03
After corpses missing vital organs start popping up around Haven, Audrey and Nathan embark on a manhunt for the most sadistic troubled person they may have ever faced. Meanwhile, Duke must confront the fate his father warned him about: becoming Haven's curse killer.
Over My Head
Gabrielle Stanton
Rob Lieberman
10/12/12
3.04
Haven is plagued by a mysterious series of drowning deaths in the nearby ocean.
Double Jeopardy
Nora Zuckerman & Lilla Zuckerman
Nisha Ganatra
10/19/12
3.05
A female vigilante comes to Haven and starts attacking criminals--including Duke.
Real Estate
Brian Millikin
Jason Priestley
10/26/12
3.06
Audrey and the others investigate a Troubled event which takes them to a supposedly haunted house... which traps them inside.
Magic Hour: Part 1
Shernold Edwards
Paul Fox
11/2/12
3.07
With Audrey and Duke following a lead in Colorado, Nathan and Tommy must deal with the latest "trouble" on their own when they discover someone in town has the ability to raise the dead.
Magic Hour: Part 2
Jim Dunn & Sam Ernst
Paul Fox
11/9/12
3.08
Audrey and Duke unwittingly team up with the killer they've been hunting all season as they track down the only person who can save Nathan's life.
Sarah
Nora Zuckerman & Lilla Zuckerman
Stephen Reynolds
11/16/12
3.09
An elderly man's "trouble" sends Nathan and Duke back to 1955, where they search for a way back, but instead encounter Audrey's alter ego from the past, Sarah.
Burned
Charles Ardai
TW Peacocke
11/30/12
3.10
A transport gone wrong leaves a very dangerous troubled person on the loose, and has Audrey and Nathan searching for answers about Audrey's identity and her connection to Haven.
Last Goodbyes
Brian Millikin & Shernold Edwards
Steven A. Adelson
12/07/12
3.11
As the time of her 27-year disappearance draws near, Audrey wakes up one morning and discovers that everyone else in Haven has fallen asleep... except for one man.
Reunion
Gabrielle Stanton
Lee Rose
01/17/13
3.12
A string of murders at a high school reunion indicates the presence of a Troubled individual taking out their teenage frustrations while the Bolt Gun Killer's true identity is finally revealed.
Thanks For The Memories
Jim Dunn & Sam Ernst
Shawn Piller
01/17/13
3.13
Audrey is determined to break the Haven cycle, save the town and end the Troubles once and for all but will fate let her?
Check out Haven: The Complete Third Season
Cast
[
]
Main Cast
[
]
Recurring Cast
[
]
Guest Stars
[
]
-*- Kate Kelton was credited in "Stay" but her scene was subsequently deleted after the opening credits for that episode had been produced. Her scene with Dwight can be found in the extras of the third season DVD.
Clips
[
]
Promotional Images
[
]
External Links
[
]