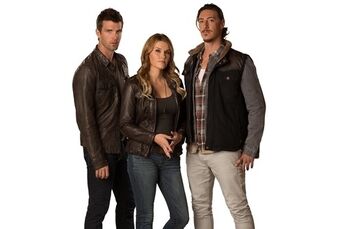 Season 4
of
Haven
was announced by Syfy on November 9, 2012. The fourth season contains 13 episodes and premiered on Syfy September 13, 2013 at 10/9c.
Season 4 of Haven picks up six months after the devastating events of the Season 3 cliffhanger in which the town was pummeled by a violent meteor storm. Audrey and Duke vanished into thin air leaving an injured Nathan marooned in Haven.
Episodes (2013)
Edit
Image
Title
Writer
Director
Airdate
Episode
Fallout
Gabrielle Stanton
Shawn Piller
09/13/13
4.01
Six months after the events of last season, Duke is ejected from the barn – without Audrey – and rescued by Jennifer, a young woman with a mysterious connection to a place she's never been: Haven.
Survivors
Nora Zuckerman & Lilla Zuckerman
Shawn Piller
09/20/13
4.02
As charred bodies are uncovered around Haven, Duke must refocus Nathan from his search for Audrey to solve the case at hand. Meanwhile, Audrey's fate rests with Jennifer, as she comes to terms with her own trouble.
Bad Blood
Shernold Edwards
Rob Lieberman
09/27/13
4.03
Nathan and Dwight race to search for the trouble behind a series of exsanguinated corpses before more blood is spilled. Meanwhile, Duke must convince his half-brother Wade to leave Haven before he learns the truth of the Crocker family trouble.
Lost and Found
Speed Weed
Lee Rose
10/04/13
4.04
Nathan and Dwight investigate missing children linked to an ancient legend; Duke tries to find Audrey by focusing Jennifer's trouble.
The New Girl
Brian Millikin
Rick Bota
10/11/13
4.05
Lexie, the new girl in town, joins Nathan on a hunt for a deadly trouble that changes its victims' personalities.
Countdown
Matt McGuinness
Jeff Renfroe
10/18/13
4.06
Audrey, Nathan and Duke find themselves in a race against time to find the troubled person responsible for turning people hard as stone.
Lay Me Down
Nora Zuckerman & Lilla Zuckerman
Paul Fox
10/25/13
4.07
Audrey and Nathan hunt a trouble that attacks Haven's citizens in their nightmares; Duke deals with the nightmare his brother has become.
Crush
Speed Weed
Stephen Reynolds
11/1/13
4.08
A deadly sea trouble threatens to crush the town.
William
Shernold Edwards
Grant Harvey
11/8/13
4.09
Audrey believes the thugs from the barn are holding William as a hostage.
The Trouble With Troubles
Nora Zuckerman & Lilla Zuckerman & Brian Millikin
TW Peacocke
11/15/13
4.10
Audrey finds herself in a different Haven where troubles don't exist.
Shot in the Dark
Nick Parker
Mairzee Almas
11/22/13
4.11
The Darkside Seekers follow a monster to Haven; their presence threatens to reveal the town's troubles to the entire world.
When the Bough Breaks
Shernold Edwards & Speed Weed
Lee Rose
12/06/13
4.12
William is determined to convince Audrey of the truth behind her origins; a seemingly unstoppable curse is unleashed.
The Lighthouse
Matt McGuinness & Gabrielle Stanton
Shawn Piller
12/13/13
4.13

William continues with his plan to turn Audrey back into her original self, meanwhile the rest of the gang finds out that some doors are better left unopened.
Check out Haven: The Complete Fourth Season
Main Cast
Edit
Recurring Cast
Edit
Guest Stars
Edit
Promotional Images
Edit