In 1992, Nathan played with Crocker, and the two were coached by James Garrick 

Either I'm really confused, or this isn't quite right.  I think somebody misinterpreted the information.  The line in the show says something along the lines that Garrick was 16 and coached their little league team (while holding down 3 jobs in high school).
Doing the math they (Nathan and Duke) would have been around 17 (Born in 75?)... that is high school sports not little league.  (this is taken from Duke's bio page).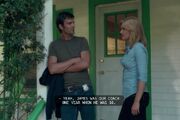 TXJ1123 (talk) 07:27, October 15, 2013 (UTC)TXJ1123
duke did not like nathon